Richard was born in 1934, the second son of John and Grace Jarrold, and lived in Cotman Road in Thorpe, Norwich.

During the Second World War Richard, and his elder brother Peter, were evacuated with his school Town Close, to the safety of Westmoreland (Cumbria). His education later continued at Old Buckenham Hall School and Oundle School. Then, taking the option to postpone National Service, he went to Queens' College Cambridge and gained a BA (hons) in Natural Sciences.

Richard met his future wife, Waltraud, when she was staying in Norwich in 1953.  Their courtship spanned five years and, after Richard finished his studies at Queens', he joined the army. He chose to join the 5th Royal Horse Artillery Regiment, who were stationed in Germany, from where he visited Waltraud and her family in Winningen near Koblenz. They married in 1958. 

Richard and Waltraud were major movers in the twinning of Norwich and Koblenz and have worked hard, over some 30 years to connect both communities through many organisations and exchanges.

After National Service Richard studied retailing with the family owned store group Beales, in Bournemouth.  Returning to the Jarrold London Street store, Richard took on the role of Managing Director from Mr Grant, on his planned retirement in1959.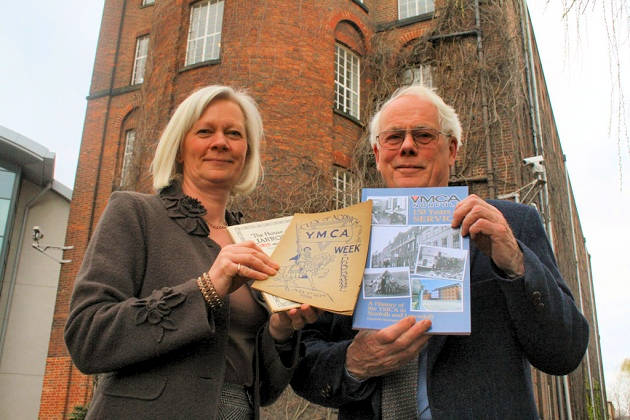 Richard took over as Chairman of the three divisions of Jarrold – Printing, Publishing and Retail – from his brother Peter who retired in 1999 and finally retired himself in 2002.

Richard was closely involved in many aspects of Norwich life and the community. He was President of YMCA Norfolk for over 40 years and when he stepped down in 2010 he was awarded the organisation's highest honour, the Order of the Red Triangle.

The Lord Richard Dannatt took over from Richard as President and paid tribute saying: "As well as his very successful business and professional life, Richard was very committed to the Christian faith and believed very strongly in wanting to help young people have a fair start in life. He found that the YMCA combined those two aspirations and his love and work for the charity was boundless.

"Only two weeks ago he attended the Annual General Meeting and celebration of the work of the YMCA over the last year. He will be very sadly missed but we all give great thanks for a wonderful life, very well lived. " 

John Drake, CEO of YMCA Norfolk from 1978 to 2009, paid tribute: "Richard served the YMCA in Norfolk at every level. From a very active Chairman to part-time voluntary leader. He and a brave band of others stood in the gap in the dark days of the 1970s and through unrelenting Christian commitment and sacrifice helped build the successful mission that is this great YMCA. 

"From his early years YMCA service was coded in Richard's DNA.  In 1856 Thomas Jarrold was one of our founding members, in the 1880s a Jarrold shop worker, Samuel True was our first General Secretary, Richard's father gave of his time and so this legacy of service continues on."
Current YMCA Norfolk CEO, Tim Sweeting, said:  "Richard was an outstanding YMCA leader who, for over 50 years, consistently modelled humility, commitment and service to others. His record of service stands as an inspiration to all of us who would wish to make a lasting difference in our great county. He will live long in the memory of our YMCA for the man he was and the strong legacy he has left for future generations."

Richard was also vice chairman of the UEA Council, and awarded an Honorary Degree in recognition of his services to the University and Norwich community. He was Chairman of the Assembly House Trustees, and the John Jarrold Trust, President of Norwich Chamber of Commerce, and President and a very active member of Norwich Rotary Club for over 50 years.

During his lifetime he was involved in many other local trusts and charities. He served as a magistrate for many years and was a long-term governor of the Hewett School in Norwich.

He was a keen supporter of the arts and music, and of Holy Trinity Church, Norwich, which he had attended from his teenage years.

Richard is survived by his wife Waltraud, and his daughters Caroline and Michelle, and grandchildren Max, Felix, Elliott, Louisa and Alice.

Daughter Caroline told Network Norfolk: "We have received so many heartfelt tributes many of which note how integral his faith was to his life, including this one from retired Norwich headteacher, Claude Scott, who wrote: 'Richard did not shout it from the rooftops, but lived it out day by day in what he did and the decisions he made both in his public and private life. His faith showed in the practical outworking of an inward and deep relationship with God. Though he was naturally a quiet person, people took notice of him because of his integrity, dignity, genuine humility, wisdom and sense of purpose.' 

"We really couldn't put it better ourselves. He was a wonderful, kind and thoughtful husband, father and grandfather and we will all miss him tremendously."

A service of thanksgiving will be held at Norwich Cathedral on January 30, 2020 at 12 noon to which those who knew and loved Richard will be welcome.
Article written by Keith Morris.